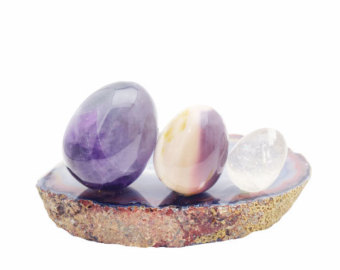 When it comes to an item intended for your most sacred space, quality matters.
As one of the leading providers of Yoni Eggs for women we're noticing some dirty tricks and trends happening the in the yoniverse.
Before we go into this more, lets talk about what certifying a Yoni Egg even means and why it's important.
We have to admit, we used to think certifying Yoni Eggs was a bit of a sham, until the Yoni Egg market blew up and vendors were popping up from all over the country selling all kinds of Yoni Eggs and we started noticing red flags within this nitch.
Anyone can sell Yoni Eggs, but not everyone can offer authentic, clean, pure, grade A quality Yoni Eggs. You see, in the lapidary world gemstones are not typically produced with women using them internally in mind. Although the use of Yoni Eggs has been around for many many moons, there was never a market for it, until now.
We've noticed over the past year that people are selling certified Yoni Eggs that aren't really certified. They were either simply certifying the Yoni Eggs themselves (literally just writing in the product description that the yoni eggs are certified authentic and chemical-free) or providing a fake certification certificate with their Yoni Eggs.
This isn't okay. The reason being is that it takes a lot of work to certify a gemstone and prove it's authenticity, grade and pureness. I'm talking two months of scientific testing by a gemologist in a laboratory!
And from we have concluded through our research is that there is only one company in the USA that can certify gemstones, Gemological Institute of America (GIA).
So, what does certifying a gemstone even mean? And why is it important?
Certifying a gemstone or Yoni Eggs tells people that the Yoni Eggs they are buying are authentic. It proves a Quartz Yoni Egg is truly a Quartz Yoni Egg and not glass, for example. Next, it ensures the customer that the Yoni Egg they are buying has not been produced with the use chemicals, dyes, resin injections or enhanced by heat.
The good news is that gemstones are not typically made or enhanced with chemicals (not yoni egg gems anyway; topaz and other rare gems are usually enhanced, but those are never sold as yoni eggs), but they can be synthetic like glass instead of quartz, or even resin can be injected in cracks to make the Yoni Eggs whole again. And this is why certifying Yoni Eggs is important.
One way to tell if a certification is legit is to google the site of the company who is certifying the Yoni Egg. Make sure the company is US based and that the info on the certification adds up. For example, on one certification in the yoniverse it certifies that the Jade Yoni Egg for sale is jadeite jade, but in another line says nephrite jade. It's either jadeite or nephrite, but not both. That's like saying quartz is rose quartz. Different, yet the same.  Get it?
If you haven't seen our standards and quality post, check it out here. We have pictures taken from our producers, so you can see where and how they are made. We have a direct trade partnership with our producers and are in weekly contact with them. We are so blessed to work with a team of dedicated lapidary artists who love what they do and love making our Yoni Eggs.
We are currently in the process of certifying our entire line of Yoni Eggs.
We offer both retail and wholesale.