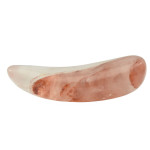 Your breasts are precious. So why not pamper them?
Health traditions such as Taoist and Ayurvedic medicine have made breast massage a regular practice since antiquity. And rightly so: Regular breast massage enhances the bust, relieves PMS, heals mastitis, releases toxins from your body, promotes positive mood, and even prevents cancer. That's ancient wisdom that's worth reviving.
For a spiritual and physical double-whammy, we like to combine the healing properties of breast massage crystals with the ancient herbal medicine of our breast massage oils. Check out these seven ways that you can use breast massage crystals, and create the self-care ritual that's perfect for you.
Get Happy
Breast massage is scientifically shown to decrease stress and lift depression by promoting the release of "the love hormone" oxytocin–so much so that some studies suggest replacing oxytocin therapy with pharmaceutical medication for the treatment of depression. A little self-love never hurts, either!
At the end of a stressful day, cleanse your space and care for yourself with a hot bath, a sage smudge, and a gentle massage with our amethyst breast massage crystal.
Look Younger
Breast massage releases anti-aging powerhouses proges, prolactin, and oxytocin into the body. These three hormones firm skin, speed your metabolism, promote a positive mood, and even boost your immune system.
Ancient Egyptians believed that the goddess Isis massaged her face with rose quartz to strengthen her divine youth and beauty. Combine vibrant breast massage oil with a rose quartz breast massage crystal for a beautification ritual worthy of a goddess.
Release Toxins
Your breasts are home to a rich lymphatic system. Over time, this system accumulates toxins from diet and environment. These toxins then stagnate, causing pain, cysts, and even cancer.
Use a carnelian breast massage crystal paired with poke root breast massage oil to improve circulation, enhance energetic flow, and gently stimulate the breasts' lymphatic system, allowing lymphatic fluid to drain toxins away.
Relieve PMS
During your moon time, your body retains fluid, making your breasts swollen and tender. Using breast massage crystals for a gentle massage not only relieves bloating and tenderness, but also promotes the production of pain-relieving hormones that will reduce cramps and help your period pass more quickly.
If you tend to feel sensitive during your moon time, try a self-care ritual with a beautiful, shimmering labradorite breast massage crystal to help protect you from negative energies. Combine your labradorite massage with poke root breast massage oil, a time-honored herbal remedy for removing the swelling and blockages associated with PMS.
Heal Mastitis
Mastitis — an infection caused by a plugged milk duct — is a common and painful occurrence for breastfeeding moms. Luckily, mastitis can be both prevented and treated with gentle breast massage.
If you're breastfeeding, treat yourself to a regular healing breast massage with an agate breast massage crystal that you've warmed under hot water to keep your milk ducts clear and your breasts healthy. You can even treat plugged ducts and mastitis by using your breast massage crystal during a hot, relaxing bath or shower. Note: due to its strong medicinal properties, breastfeeding mothers should avoid poke root oil, and opt instead for our vibrant breast massage oil.
Enhance Breasts
Ayurvedic medicine utilizes breast massage for increased circulation, toxin drainage, and bust enhancement. In Western medicine, breast massage provides a similar benefit: it promotes the production of the hormone prolactin, which actually causes breast tissue to plump up and become firmer.
Put the sexual energy-enhancing properties of desert jasper to use to enhance your breasts with a desert jasper breast massage crystal and our Vibrant breast massage oil.
Prevent Cancer
Getting to know the shape of your breasts through regular breast massage is vital to keeping your breasts healthy. But in addition to the benefits of knowing your breasts well, using breast massage crystals increases the production of lymphocytes, the cells that make up your immune system and keep cancer at bay.
Enhance your healing practice with the cleansing properties of fire quartz by using our fire quartz breast massage crystal. Resolve lumps, blockages, and stagnation faster with our poke root breast massage oil.